Algasol's PhotoBioReactor (PBR) technology enjoys world-wide patent recognition of its novelty and acknowledged utility.
Why?
Algasol's PBRs produce, by far, the lowest-cost, algae of any cultivation system.
No other technology delivers on algae cultivation's "green revolution" potential.
Algasol's does.
How?
Industrial scalability
Low-cost materials and deployment (CAPEX)
Low-cost operation (OPEX)
Deployable on land, lakes or oceans
High yield
Multiple sealed growth compartments
New world-wide patented industry platform for industrial-scale algae biomass production
Algasol's PhotoBioReactor is made of a thin and flexible polymer material that is positioned in seawater – whether being a seawater pond on land or in the actual sea.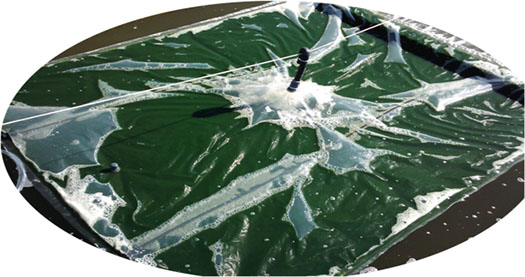 Compared to alternative closed micro algae systems, the PhotoBioReactor technology from Algasol Renewables contains multiple advantages, including:
Full flexibility on location
Low cost material and design
Industrial scalability
Optimal light exposure
Highest biomass concentration
Low energy consumption
Weather protection
High CO2 sequestration
Algasol's commercial sized PBR's are interconnectable modules, that can be purchased individually. Price list
A world wide patent, including India, Europe and the USA, protects all key aspects of the technology.
Even though the TRL system is not usually applicable in the patent and algae industry. Algasol's technology is considered to be at TRL 9 due to its patent and technology maturity, industrial readiness, launching of PBRs on over 4,000ha and 3 continents.
Algasol pursues an active partnership strategy in connection with the commercialization of its patented technology and large scale biomass production in Bangladesh. More about strategy »